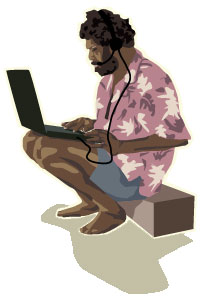 Teaching from Country: ICTs for Remote Indigenous Knowledge Authorities as Tertiary Educators In depth, Text and Powerpoint presentation, about the program, from the Seminar by Michael Christie, CDU 25th June 2008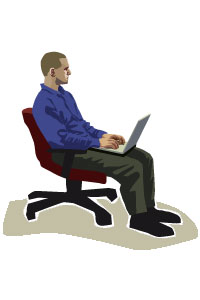 About the Program
The Australian Learning and Teaching Council has provided funding for the development of an ICT-based program in which Yolŋu (northeast Arnhemland Aboriginal) and academic knowledge authorities can come together to develop, foster and engage an emergent remote Indigenous pedagogy: Teaching from Country. This is distance education in reverse: the lecturers are in remote places and the students are (mostly) on campus at Charles Darwin University in Darwin. The project has funding to release Michael Christie from his Charles Darwin University duties for a year, to pay for the involvement of Yolŋu knowledge authorities, for basic hardware, software and connectivity, to support travel for Michael and the international experts, for technical assistance and digital resource development, and for an 'extended seminar'. The program which started in September 2008, finished formally in late 2009, but continues into 2010.

Challenges:
What is a helpful conceptual framing of issues involved in our work that is valid in Yolŋu terms and supports translation into academic contexts?
What are the best socio-technical arrangements (hardware, software, connectivity, spaces, images, voices, organizations)?
How do we understand and support the emergent order of remote Yolŋu pedagogy?
How do we situate Aboriginal teaching in the academic institution to ensure that Yolŋu are fully recognised and paid properly for their contributions?
How do we ensure that Yolŋu intellectual property is safeguarded through both the traditional and the Australian legal systems?
Processes:
Set up socio-technical configurations in several remote Arnhemland sites and at the university, and work to develop a new remote Yolŋu pedagogy of languages, culture and the arts.
Maintain a conversation among all the parties which identifies and explores the challenges that emerge.
Use this website to make the processes public, and transparent, while preserving its complexities, and respecting Yolŋu ways of producing and sharing knowledge.
The People:


ALTC Senior Fellow Michael Christie










Aboriginal knowledge authorities from remote communities who have experience in traditional law, in university work, and in digital technology.











International and national experts in the use of digital technologies for knowledge work, e-teaching and Indigenous studies.





University teachers and students of Indigenous arts, languages and cultures.