Mobile Learnline is a free mobile application that allows you to access your Learnline unit on a variety of mobile devices.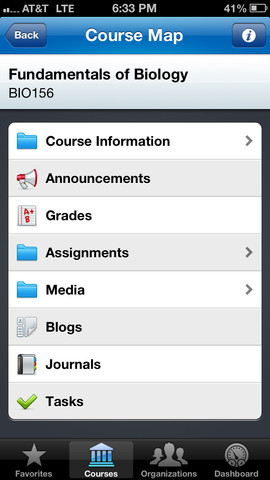 Mobile Learnline is not a complete alternative to accessing Learnline units via a web browser on a computer and you will find that some features are limited via mobile. However, it does add mobility to some Learnline features including:
Announcements
My Grades
Discussion Boards
Tasks
Blogs
Journals
Course Content
Mobile Compatible Online Tests
Blackboard Mobile Learn is available on the following devices:
Some mobile systems (e.g. Nokia- Symbian and Windows Mobile) are not yet supported.
The app is best used for reading announcements, checking grades, interacting with discussion boards and blogs, and accessing attached documents and content items. The app is not designed for long periods of activity via a mobile device and best suited for quick responses or tasks.
The app may not give access to all key learning and assessment activities in a Learnline unit. It is strongly recommended that students continue to access Learnline via a web browser on a computer for any of the following activities:
Assignment submission
Taking tests or quizzes unless they are a Mobile Compatible test
Accessing collaboration tools (Wikis, Blackboard Collaborate classrooms)
Accessing Flash content
Accessing content from 3rd party systems available in Blackboard
For further details, view the "Blackboard Mobile Learn Feature Guide by Device" document.
Students should be aware that downloading content to a mobile device may incur data costs from service providers. We recommend that care be taken, especially when accessing any large files or rich media files.
We encourage students to take advantage of CDU's wireless connectivity where available. For assistance in connecting to CDU's wireless netowrk, visit  Student Wireless set up information.
CDU provides access to a 24hr, 7day/week central support desk for Learnline. To access support, choose from the following options.
Please note that if your call is related to Mobile Learnline it is recommended to use an alternative phone to the device that is hosting Mobile Learnline. 
Telephone support: Call 1 800 559 347 and follow the prompts
Web: Online help support desk via CDU's customised support portal
Visit the Blackboard Mobile Learn RESOURCE CENTRE containing getting started information, using the Mobile Learn Apps, general FAQs and known Issues.