What is Learnline?
Learnline is your connection to online learning at Charles Darwin University and consists of Blackboard Learn, the learning management system, Blackboard Collaborate your online classroom, Mobile Learnline, you mobile connection to Learnline and other platforms that connect you and your peers and support online learning.
Current Release:
Blackboard Learn October Release 2014
Blackboard Collaborate v 12.6
CDU Mobile v 1.5 (iOS) v 1.6 (Android)
What's New
Learnline Upgrade
Upgrades are an important part of the annual roadmap here at CDU and are intended to provide new functionality based on educator and student feedback from the Blackboard community. Likewise, upgrading offers solutions to issues and problems and the opportunity to remain abreast with advances in learning technologies.
The annual upgrade of Learnline was successfully completed over the weekend of 6th - 8th November 2015.
This upgrade is not a major release with new features, but rather a 'maintenance' release that secures currency in the release cycle and assures our ongoing support for the platform.
Links to resources, on demand tutorials and videos, and guides.
Get Social with Learnline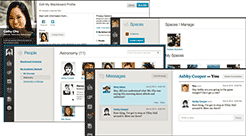 By now, you have likely discovered the People and Profiles, Spaces and Messages tools that provide the foundation for Learnline Social. It can connect users at Blackboard institutions around the globe, and within the university Learnline community to enable them to learn from each other in a more social, informal way – complementing the classroom and online experiences.
Since enabling, the university has seen thousands of individual profiles established and a constantly increasing use of social spaces created by students, schools and others in the Learnline community. Spaces have been established to support study groups, formed around a specific unit of study, theme and discipline or created just to keep in touch with each other.
It's exciting and it's growing all by itself, so get going…
Create a profile                                    Build a space                       Join Learnline Social now
For more information see:
Improving the management and distribution of rich media with ShareStream

In a world of increasing bandwidth it is no surprise that the demand for rich media content has grown.  The State of Video in Education report 2015 states that using video for learning and teaching is now common place in Higher Education and that video will replace the textbook allowing for more active learning.
To meet the demand for video and audio in learning and teaching CDU has partnered with ShareStream to manage the delivery of audio and video via Learnline.
ShareStream is a rich media management and delivery platform that allows educational institutions to store and manage rich media content (video and audio,) in a centralised system and deliver that content into Learnline.
ShareStream will enable faculty, staff and students to upload video and audio, tag content with relevant metadata, search and browse media collections in which they are enrolled and deliver content via a streaming server into Learnline.
We are excited to announce that CDU has completed the establishment of this service and will be commencing a pilot soon.
For further information about ShareStream please see the links following:
For further information surrounding the ShareStream project contact
Bill Searle - Manager, Learning Technologies
Phone: (08) 8946 7047 
Email: bill.searle@cdu.edu.au