Feeling overwhelmed, stuck on a question, or not sure where to even start?
It's ok. We all get stuck sometimes.

Whether you're struggling with writing and grammar, or maths in electrotechnology – accounting, statistics or referencing – you can get immediate, one-to-one help from an expert tutor.
How does it work?
On-demand experts are waiting online to help you with your questions. As soon as you need it, you can log in and be connected live via online chat.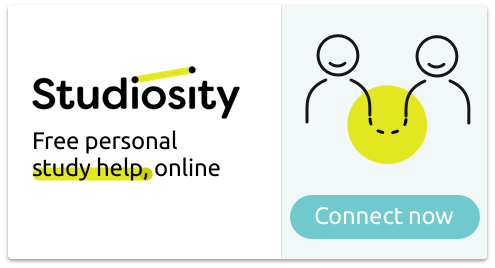 How do I know if I can access Studiosity?
If you are enrolled in a 100, 200 or 300 Level Unit you can access Studiosity.
This is typically the first, second or third level of undergraduate education. It provides disciplinary foundations and an introduction to studying in that field.  
The first number in each unit code indicates the year level at which the subject is taught.
So, if your unit code starts with the number 1,2 or 3 this free service is available to you now.
Check your Learnline unit site and look out for the link to Studiosity. You will find the link in the Unit Navigation.
Hours
Support is available from Sunday to Friday 3pm – midnight (Australian Central Standard Time ACST)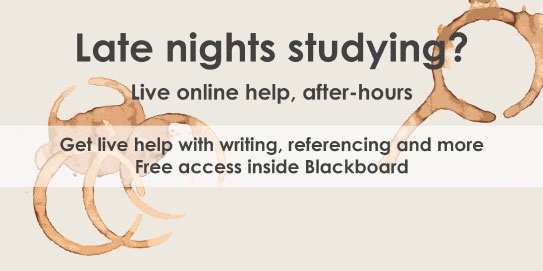 What happens when you connect live to an online tutor?
First, you tell 'Studiosity' what subject and year level you need help with, and submit the question you'd like to discuss. They will then match you with the next available specialist in that subject. In 95% of cases students are connected within 5 minutes.
Communicate with your tutor using typed chat - this keeps you anonymous and gives you a written transcript of the session which you can keep.
Use the interactive whiteboard to draw more visual information such as mathematical equations.
What subjects are supported?
Academic Foundations
English Skills: Grammar, spelling, punctuation, ESL support.
Maths: General, intermediate, specialise/extension, statistics.
Writing: Essays, reports, creative writing, speeches.
Research: Assignment and project research.
Library skills: Database research, online search skills.
Study skills: Time management, note taking, revision.
Science: General science, biology, physics, chemistry.
And Core Subject Areas
Accounting
Microeconomics
Macroeconomics
Statistics