What is Learnline?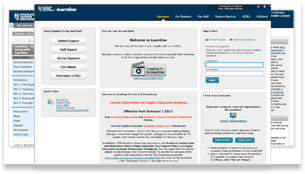 Learnline is CDU's online learning environment and consist of the learning management system Blackboard Learn, online classroom (Blackboard Collaborate) and a suite of other online learning tools.
Online learning is an important part of many units of study at CDU. While each unit is different, where Learnline is used, you will be able to do one or more of the following:
View and download content
Interact with your lecturer and fellow students using a range of communication tools
Undertake assessments tasks and upload assignments
Track your progress and grades
Join online classrooms and interact by collaboration tools
Listen to lecture podcasts
Stay connected on the go with mobile
Receive notifications when new content is added
Engage in a social network that connects students within CDU and at Blackboard institutions around the globe. Discover connect and communicate with Learnline Social.
Create a profile that includes your picture, area of study and "about me"
Build a profile wall for communication, follow message and make connections with others
Create a space to collaborate with other users. For example, you can create a space for a study group, your fellow students, or any other special interest. Join the conversation, create a space now...
The links on the right hand side of this page contain information that will help you to learn more about Learnline and ensure you get the best possible experience when using the Learnline tools.
Learnline Upgrade
Upgrades are an important part of the annual roadmap here at CDU and are intended to provide new functionality based on educator and student feedback from the Blackboard community. Likewise, upgrading offers solutions to issues and problems and the opportunity to remain abreast with advances in learning technologies.