What's New
Learnline Upgrade, Summer Semester 2014 - Introducing the next Release of Learnline
Upgrades are an important part of the annual roadmap here at CDU and are intended to provide new functionality based on educator and student feedback from the Blackboard community. Likewise, upgrading offers solutions to issues and problems and the opportunity to remain abreast with advances in learning technologies.
Learnline upgrade
To coincide with the commencement of the Summer Semester 2014, CDU will be upgrading Learnline to a new release of Blackboard Learn.
The Office of Learning and Teaching will undertake user acceptance testing prior to the upgrade and will be offering awareness and training sessions to academic community, initially prioritising Summer Semester teaching staff. Further training and awareness session will be scheduled for all teaching staff. Please note that the availability of new features is subject to acceptance testing before being made available.
Summary of key features:
Improved Portfolio Framework
New SafeAssign integration
Student Preview option
Anonymous and delegated grading
Improvements to test questions & reporting
Improvements to group management tool
Date management
Grade Centre improvements
Inline Assignment grading updates
Find out more about the key new features.
Feature Guide (.pdf 1.9mb)
Links to resources, on demand tutorials and videos, and guides.
Get Social with Learnline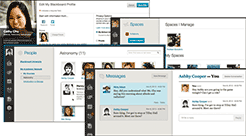 By now, you have likely discovered the People and Profiles, Spaces and Messages tools that provide the foundation for Learnline Social. It can connect users at Blackboard institutions around the globe, and within the university Learnline community to enable them to learn from each other in a more social, informal way – complementing the classroom and online experiences.
Since enabling, the university has seen thousands of individual profiles established and a constantly increasing use of social spaces created by students, schools and others in the Learnline community. Spaces have been established to support study groups, formed around a specific unit of study, theme and discipline or created just to keep in touch with each other.
It's exciting and it's growing all by itself, so get going…
Create a profile                                    Build a space                       Join Learnline Social now
For more information see:
Blackboard Analytics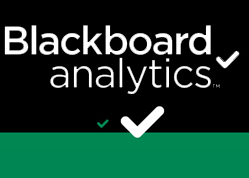 Blackboard analytics combines information from student systems and Learnline unit characteristics to create reports and dashboards for the university academic community and university leadership.
Analytics can be used for individual learners to reflect on their achievements and patterns of behaviour in relation to others; as predictors of students requiring extra support and attention; or to help teachers and support staff plan supporting interventions with individuals and groups.
Analytics offers insight into user activity, unit design and student grade and learning outcome data across schools and faculty and can help in improving the use of Learnline to support learning and teaching.
On Thursday August 21 Professor Martin Carroll PVCA, launched Learnline Analytics at the Mal Nairn Auditorium and outlined the university's strategy surrounding its broader implementation. Integrated Learnline Analytics reports are now available to the academic community for formative use with training to be provided in conjunction with Blackboard Analytics consultants over the coming months. To a view a video of the launch and a presentation delivered by Analytics Consultant, Nicole Wall, see the link below.
http://www.cdu.edu.au/olt/projects/analytics.html
Improving the management and distribution of rich media with ShareStream

In a world of increasing bandwidth it is no surprise that the demand for rich media content has grown.  ShareStream  is a rich media management and delivery platform that allows educational institutions to store, manage, and preserve licenced and institutionally-generated rich media content (video, audio, lectures, podcasts, images, etc.) in a centralised system and deliver that content into the learning management system.
ShareStream will enable faculty, staff and students to upload, compress and transcode video, tag content with relevant metadata, search and browse media collections in which they are enrolled and deliver content via a video streaming server into Learnline.
We are excited to announce that CDU has commenced the establishment of this service and will be commencing a pilot soon.
For further information about ShareStream please see the links following:
For further information surrounding the ShareStream project contact
Bill Searle - Manager, Learning Technologies
Phone: (08) 8946 7047 
Email: bill.searle@cdu.edu.au